Work with me for 3 months to deep dive into everything you need to know about the inner and outer workings of money & wealth.
Never feel like making money is hard again.
Call in massive amounts of money.
Manage and grow your money using fundamental & practical financial knowledge.
Know how to invest your money using investment education, I'll even teach you about basic economic principles.
Have more than enough so you can be that generous person you've always wanted to be.
Understand your own money blocks, pull them out & plant new ones.
This is for you if:
You have enough financially, but want to have more wealth to up level your life & the lives of those around you, but don't see how you could get there without sacrificing.
You go all in when you have your back against the wall financially and seem to make miracles happen, but you're tired of the cycle and want to have more than enough all the time.
You've always known that you were born to do great things & live life on your terms. Maybe as you got older you started to be 'realistic' and lost some faith that it's actually possible for you.
Maybe you have absolutely no knowledge about finance, or maybe you studied the damn thing, but you know that there is a better & easier way to manage your money you're just not sure what it is.
You have mild anxiety or guilt when spending money on yourself or others, you image the money being subtracted from your pool of wealth.
You procrastinate when it comes to managing your money systems.
You feel nervous to talk about money or ask for money owed from clients, partners, friends and family.
You have offers but seem to run out of steam when it comes to putting it out into the world, if you were really honest with yourself you didn't actually believe that it would ever really work on a big scale anyway.
You find yourself trying to find that 'one' strategy or that 'one' healing modality that will shift & change everything, going all in and then losing momentum, where nothing is really sticking.
You've got that burning desire to step into your life that is wealthy, juicy & where you have your money shit together, maybe you feel really far away from it, or maybe it's all ticking along but it's not at the level you truly desire. You're frustrated with and not clear on how to get there without pushing life uphill.
You're going to learn everything you need to know about money management systems, financial assets, building an investment portfolio, and cultivate a healthy money mindset that will magnetise wealth to you.
It's important to note I do not recommend any financial products or give financial advice; I teach money mindset and financial education. You will have the tools to know how to choose your own investments and accounts that suit your needs by the end of the program.
What type of people have I worked with on money mindset & financial strategy?
Politicians, Sex Workers, CEO's, Mums, Coaches, Mentors, TV presenters, Actors, Models, Executives, Accountants, Lawyers, Builders.
When I was a child I was literally so appalled that I didn't live in a castle painted with pink sparkly nail polish with trampolines floors in a far away land filled with ponies. It wasn't that I had big dreams, it was that I just expected that to be the level of life I played at.
I didn't have the tools of money mindset or financial education back then.
But I do know. And I live in a Queendom, my taste has changed a little. I swapped the pink nail polish walls for pink cushions and the trampoline for a swimming pool on a faraway tropical island.
But it wasn't always like this…I remember sitting at my desk in a big concrete building after years of studying economics & finance at university, then some more doing a CFP (which is like a masters in financial advice), wondering is this it?...at that moment I had a wish, I wished that I would get cancer, not so much that it would kill me, but enough so that I had a reason to just stop and reset.
I wish I could say that's when I changed my entire life and moved to a life of total freedom. But it wasn't. I had a few anxiety attacks, burn-out, heart palpitations, partying addiction, an eating disorder among many other symptoms until finally I made the call to change everything.
The crazy thing was that I knew pretty much everything there was to know on a practical level about money. Yet I had no idea how to use it for my own freedom, and I was totally addicted to having a wage, I didn't really believe I could ever make that much money and live life on my terms.
I honestly believed it was a choice of freedom or of wealth.
By this stage I had decided I'd never have a boss again, I decided freedom was more important to me.
That was until I had an offer from a business to work as a financial advisor under their licence, I'd have my own support team, I could run it as my own business, I could work from wherever I liked, and they even gave me so many leads I could hardly keep up.
Freedom and wealth. I started to see that perhaps it was possible. But before long I could feel like I was trading my freedom again, and while I loved the business and the people, I wasn't totally aligned to the finance industry anymore. I knew I wanted to teach people how to manage their own money rather than manage it for them.
I paid about $10,000 for a money mindset coach around this time, it scared the shit out of me, it was the most I'd ever paid for well anything!!
I was the person who would read the menu and decide what to order based on the what was the healthiest lowest price dish, and then eat everyone elses left overs. Even when I was earning over 6 figures I was still this person.
I had no idea that no matter how much I earnt I'd always feel poor unless I worked on my money mindset.
It was doing this work that really propelled me back to how I was when I was a child, I just knew what I wanted and who I was, and that of course I could live life on my terms. But now I actually have the tools in order to make it a reality.
Now I don't choose between wealth and freedom.
Now I'm generous with money, not because I have more of it, although that does help, but because of my mindset. I know in the household I grew up in being rich meant that you took off the poor, now I see that was blocking me from feeling and being wealthy. In fact with money we can do a lot more to change the world, support projects that means something to us, we get to employee people, to provide for our family, to buy products & services which supports the people behind those business. We get to live a life of pleasure & of purpose.
If you want to be wealthy & actually feel wealthy you're going to need to do something really different from what you have been doing.
Join School of Money today to understand how to make, manage and grow money.
What you'll learn:
How to grow wealth in a simple, easy & effective way
The fundamentals of the share market & investment markets
How to build your own investment rules
Investing ethically, how to do it and how to get just as good returns
How the economy works & what you need to know about it
How often & how much to invest
How to earn passive income year in and year out from your assets
The different type of assets and understand which ones suit you
How to make your money work for you
How to grow small investments into huge portfolios
The power of compound interest, what it means and what it can do for you
Understand how to invest in a low cost, simple way
The investment strategies that work and how to pick the one for you
Weekly trainings, that are yours to keep for life
Weekly homework to actually put this stuff into action so you can START now
Bonus training pre-work to get you primed and ready to build your wealth
EB Bonus: Manage your cash flow without a budget training
EB Bonus: Personal spending & asset builder worksheet
Bonus: Increase your income masterclass & worksheet
Bonus: 1 month Wolf Pack access (business & money mentorship program)
Bonus: Goal & vision setting training
Bonus: Invest Like A Queen Pre-Work right away
Bonus: Live Q&A every 2 weeks during the program
Bonus: Implementation Q&A 2 weeks after the program finishes
Bonus: Access to the group for Life where you can ask questions & get ongoing bonus trainings
5 weeks of investment masterclasses for you to keep for life
How it works
You'll get access right away to the Wolf Pack where we host the community, you can access hundreds of past trainnings right away and join live for upcoming coaching session (3 trainings held per month).
The program will launch 22 Feb where you'll get access to a new module each week on mindset & money management.
You'll be able to keep these for life

Plus you get all of this when you join!
Rich As Fuck Pre-Work Bonus
Pre-work to start ploughing your money mindset straight away
Bonus's to help you get clear on your life vision & intention
Bonus Invest Like a Queen Q&A
2 Live Q&A's during the program
1 Live implementation Q&A follow up
Access to the replay of the Q&A
Access to all the weekly trainings for life
Bonus 1 month access to my monthly group mentorship
This is my favourite group...it's all live..and you have access to literally days of trainings, PLUS
We do monthly live trainings, masterclasses and workshops on money, business & purpose.
There is also the opportunity to be hot seated by me...& weekly journal prompts....& access to me in the group! ...all in a high energy community of soul led creators
Bonus Access to Invest Like a Queen Group for LIFE
Life time access to the ILAQ investment group where you can post your investment questions FOREVER
Get access to bonus trainings for life
As we update the program you'll also receive all the new updates so this will never get old
Be part of an investment community that are also growing their wealth the simple & effective way
Bonus Training on unfuckable faith
Cultivate faith & trust in yourself & life that is unshakable
Shift everything that happens to you to happen for you
Commit to life & your purpose of being you
Access to me during the 21 days
Ask me anything in the membership porthole, I'm there to support you along the way
Bonus Money Management Masterclass
Practical money management systems that will support the other 20%
Manage your cash flow like a pro
Let your money work for you by investing in passive investments
Grow your wealth as well as your income with practical systems & automations.
Hours of high-quality content for you to keep forever
Access to hours of videos, training, home play & worksheets
You'll be able to access this forever, it's yours to keep
Bonus 1 month Wolf Pack access (business & money mentorship program)
1 month access to the incredible monthly mentorship where we drop a tone of trainings
Access to monthly live trainings, masterclasses and workshops on money, business & purpose
Access to over 20 hours of past trainnings on money & business
Opportunity to be hot seated in a coaching session
Weekly journal prompts & access to me in the group
Access to a high energy community of soul led creators
Bonus goal & vision setting training
Bonus training on how to tap into your vision & create clear tangible goals
With clear goals you'll understand why you're investing & how much to invest
EB Bonus: Manage your cash flow without a budget training
For early birds only a masterclass on managing your cash flow
Reduce cash leakages
Have more money to do the things you enjoy!
EB Bonus: Personal spending & asset builder worksheet
For early birds only get access to a personal spending worksheet
Clarity on where you want your money to go (money always needs a home)
Asset & Liabilities worksheet to help you understand your starting position allowing clarity to restructure your strategy & assets to support your goals
Still unsure? It's pretty simple, you either want to know how to be financially free and create wealth that ticks over and grows & spits out income, the easy, low cost & proven way....or you don't.
They definitely don't teach you this shit at school, but I will XX
Your Instructor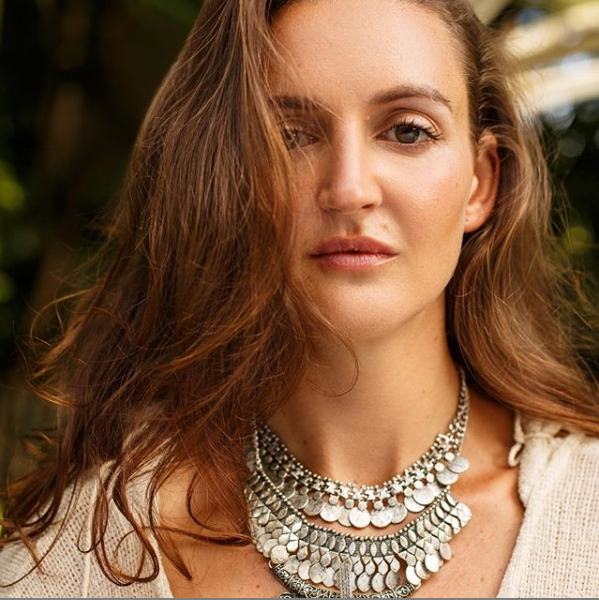 I support women and couples to create the abundant, joyful & rich life they were born to have. I have a Bachelors of Business in applied Finance & Economics and have completed the Certified Financial Planner CFP® program.
Frequently Asked Questions
When does the course start and finish?
You can access some of the bonuses & the pre-work right away. The program begins on the 22 FEB & will be uploaded here on the membership site. You can work at your own pace & will have everything to keep for life.
How long do I have access to the course?
How does lifetime access sound? After enrolling, you have unlimited access to this course for as long as you like - across any and all devices you own.